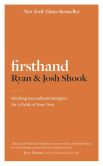 This book is a must read for anyone who grew up in a Christian home and never truly felt that it was a faith that belonged to them. Religion needs to be sought and explored.

It's exciting to see something that steps out of religiosity and gets real. People cannot live on their parent's faith, they must develop their own. Great book - wonderful truth.

Great advice. Great read.